Internet Logistics: Moving Beyond the Factory Walls
the-surfs-up.com
Volume 1, Issue 11
January 2002




Read Other
Surfs-Up Articles

New Chat Rooms

Getting Music Online

Internet Medicine

Buying Drugs Online

Digital Cameras

Sports Online

Streaming Media

Games Online

Internet Business Models

Buying Cars Online

Handheld Devices

Telematics In Cars

Online Exchanges

Buying Drugs from Canada

Online Gambling



Sports History & Trivia




Internet Logistics
Never before in the history of supply chain managment has it been so easy to track the movement of goods.
Prior to the Internet, business managers had to stockpile large inventories or end up with sold out specials because they'd miscalculated on delivery dates.
Now thanks to the Internet, businesses are able to track their inventory at any time of the day or night. By being able to coordinate their logistics electronically, companies have saved billions of dollars in inventory, shipping and delivery.
Today if a product is made at a factory in Japan it can be tracked from the factory to the airport. Messages are then sent to truck companies who are told of the plane's expected time of arrival.
The truck driver, who carries a handheld device like a RIM Blackberry pager, is then emailed by the truck company and told what time to pick up the shipment at the airport. The product may then be taken from the plane to a warehouse. At that time it may be divided into smaller shipments and then other truck companies are involved.
Meanwhile the logistics network is updated in real time as the goods move from carrier to carrier and any party involved can log into the network via the Internet to find out the product's location at any given time. If products are delayed because of bad weather, that information is made available on the network.
By coordinating data and providing visibility, logistics networks can also tell companies which carriers are delivering their products on the dates they specified.
Last January Murray Coleman of the Investor's Business Daily reported that investment banker Stephens Inc. predicted that sales of services used by companies in electronic logistics would be above $1 trillion by 2005 and that U.S. e-logistics software sales alone were expected to increase to $45 billion in 2004.
In August Forrester Research predicted that the use of the Internet to monitor the transport of goods throughout Europe would grow fifteen fold over the next five years. This would result in total revenues from online logistics services rising to EUR133 billion by 2005, amounting to 21 percent of all logistics revenues in Europe.
Not only do logistics solutions track goods outside the factory but the majority of the solutions available today focus on tracking products within the company that has manufactured them. In fact most logistics companies specialize in handling the internal coordination of products, while very few logistics companies focus on the products once they leave the warehouse.
Coleman quoted Stephens analyst Robin Roberts as saying that ' "Nobody really has done a good job serving all of the main areas of e-logistics... But Descartes [Systems Group] is further along than the others... it's clearly on top of the market... i2 [Technologies Inc.] and some of the bigger players in related fields have expanded their technologies to do a better job at tracking and tracing the movement of goods within a plant's four walls", she said. "But once those products leave their own facilities and start being shipped to several other companies, an i2 system doesn't do as well compared to what Descartes has to offer."'
In October Descartes reported that Mitsui USA had been set up on the Descartes network along with the company's subsidiaries American Tri-Net Express, Inc. and Intermodal Terminal Inc. These companies provide the transportation and related logistics services to Mitsui USA and its customers.
As a result of being on the network the companies were able to manage and control the movement of goods across multiple modes of transportation, including ocean, land and rail. Any of the parties involved in the process were able to look up the status of a shipment by using a Web browser. Descartes also provided Mitsui with proactive email alerts when shipment delays were expected.
Descartes sets up companies like Mitsui USA and their subsidiaries, suppliers and carriers onto the network and then charges the company a transaction fee on any message related to their company that enters the network.
This fee is only charged to the main companies like Mitsui and not to the suppliers and carriers who joined on behalf of the larger company.
Because of the nature of the Descartes network it can be integrated into the internal enterprise management systems of most companies and can provide the network infrastructure for companies running other logistics software.
In October Chuck Moozakis of Internet Week reported how logistics had come to the rescue of chemical producers who were concerned about the new federal restrictions that would affect the transport of hazardous materials.
Moozakis reported that a new application from the Elemica exchange was to allow the receivers of chemicals real time control over the logistics of freight so that carriers, routes and other details could be quickly altered in the event of an air travel disruption or border closing, like what happened on September 11.
Elemica chose the Descartes network to support its exchange. In a Descartes press release dated March 6, Kent Dolby, President and CEO of Elemica was quoted as saying "The Descartes technology is an excellent fit for Elemica on a number of fronts... The logistics network platform is global and vendor neutral, allowing us to connect the disparate systems of the participants quickly and modify connections as relationships evolve. It is also Web based, giving us the ability to easily integrate back end fulfillment processes."
Moozakis quoted Linda Dansbury director of supply chain for the exchange as saying that, "the systems can be set up to give customers as much visibility as they want [into the shipping process] as well as hook into their existing business rules," she said. The Elemica exchange is backed by 22 large chemical companies.
Coleman also reported that while large carriers like Ryder System Inc. have their own electronic tracking systems, they use Descartes to track stuff that moves from their systems to the systems of other shippers and companies.
He quoted Peter Scwartz, chief executive of Descartes as saying, "In today's market, carriers can manage freight better by co-mingling their services... Even if they have their own trucks, they'll also need third-party carriers in certain situations. We give them that ability."
In March Descartes reported that messages were accepted to the network from flat files, web forms, XML, EDI and wireless devices. The messages were then translated so that they could be displayed in a browser and made available on the network to companies, carriers and suppliers involved in the process.
Melanie Austria Farmer of CNET reported in May that i2 had teamed up with Sun Microsystems and iPlanet to create a new Web-based software, following similar plans announced by Microsoft, Oracle, IBM and Hewlett-Packard.
Farmer reported, "Company executives touted the alliance... and said businesses need a complete package that ties the software, hardware and services to help companies get a more complete view of their business activities from the back end supply chain systems to front end customer systems."
In a Descartes press release in November Kevin F. Smith, Senior Vice President of Logistics for CVS said, `Descartes is not proposing to build a system; they have a system that is truly up and running and delivering significant results for customers. At CVS, we expect a significant reduction in inventory through the use of the Descartes solution.''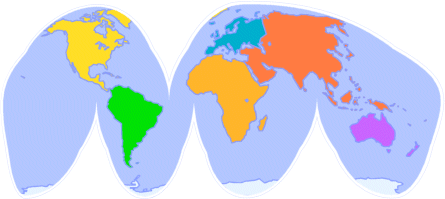 CVS Corporation, the largest retail provider of prescriptions in the United States, recently connected CVS and a group of their top suppliers and carriers to the Descartes network.
I2 reported in December that they had currently over 200 customers using i2 Transportation solutions. This included shippers and 3PLs representing a combined annual freight spend of over $10 billion.
In a September press release i2 also announced that United Airlines had agreed to become the first service provider for i2 FreightMatrix enabling new air transport options for FreightMatrix customers.
It was reported that FreightMatrix enables customers, ranging from freight forwarders to shippers and marketplace participants, to plan logistics activities and select service providers in an efficient manner. By working with United, FreightMatrix was to provide customers with access to new capabilities for online booking and tracking of airfreight, as well as same day express service options.
In comparison Descartes reported in November that there were over 5000 companies connected to its already Web based and visible logistics network including manufacturers, distributors and retailers to third party logistics companies (3PLs), long haul carriers, less than truckload (LTL) carriers, air cargo carriers and ocean carriers.
The Descartes network also reaches six continents and supports multiple languages and global document and messaging requirements between trading partners, including time zone localization and latitude longitude reconciliation.
In another release in January it was reported that the Descartes solution could reduce inventory costs by 5 to 15 percent, tracking and expediting costs by 20 to 80 percent, and costs from obsolete inventory by 40 to 60 percent.
While Descartes is clearly the leader in logistics outside a company's four walls, i2 may well provide the best solutions within the factory.
Jennifer Merritt of Business Week Online reported on an interview that was done in May between Dell Computer Corp's Dick Hunter and Business Week Industries Editor Adam Aston. Using i2 resource planning and execution systems, Hunter told Aston that all of Dell's global manufacturing sites were operating on the same software and that the tracking of inventory inside the factory and had been a key reason for Dell's success.
Hunter said, '"We carry about five days' worth of inventory. Our competitors carry 30, 45, or even 90 days' worth. This is critical because in our industry, materials costs fall by about 1% per week. So if a competitor has four weeks' worth of inventory and we have one week's, right there we have 3% worth of materials cost advantage. That can mean a 2% or 3% advantage on the bottom line....
We typically run a factory with about five or six hours' worth of inventory on hand, including work in progress. This increased the cycle time at our factories and reduced warehouse space. We replaced this space with more manufacturing lines.... The software tells us where we are. We monitor practically every part, every day...."'
In an i2 December press release it was reported that Gary Conrad, vice president of Logistics at Smithfield Packing, chose i2 because of its in depth analysis of Smithfield Packing's needs.
"Not only is this solution exactly what we needed to run our processes more efficiently, we are also able to see value very quickly. We began implementing i2 Transportation Optimizer in mid March and went live with the solution in May. Within two months we were receiving quantifiable benefits by using the i2 transportation solution."
Not all companies have been happy with the i2 solutions however. Melanie Austria Farmer and Erich Luening reported for CNET in March that i2 saw its stock drop more than 22 percent after Nike said its supply chain management system, which was being developed by i2, had led to excess inventory and order delays that in turn partly caused a profit shortfall.
Bill Wohl, a spokesman for German software giant SAP, which was also involved in the Nike project was quoted in the article as saying, "What we know about a software implementation project is that it's just not about turning on the software... These projects often involve really wrenching changes in a company's business process... It involves changes in the way employees work, and anytime you make changes in the way employees are used to working, it can get difficult."
Joshua Greenbaum, an analyst who heads Enterprise Applications Consulting, also said in the article "companies that undertake multiyear supply chain implementations should reassess plans to really understand the scope of their complexity. Another lesson from the Nike fiasco: If a company is going to implement a system to automate a global supply chain, test the system at least once before going live."
The importance of using logistics networks to monitor products outside the factory walls is one area where businesses are failing when it comes to supply chain management. In November Supply Chain Management Review editor Francis Quinn interviewed business author Michael Hammer about his emphasis on the importance of the supply chain in his latest book, The Agenda.
Hammer said, "To understand the supply chain emphasis, you need to look at what's been happening within companies over the past few years. Many companies, in fact probably most, have made a lot of progress on things that go on inside of their four walls. But they haven't made the same kind of progress with things that take place outside of their walls, namely supply chain management.
Despite all the work that's been done on the subject, despite all the things we read about in Supply Chain Management Review, most companies still have a long way to go in exploiting the potential of the supply chain."
When asked why it was so important to knock down the walls between trading partners, Hammer said, "...walls equal costs. And the higher the wall, the higher the costs. The walls between companies are much higher than the walls inside companies. For the past 10 years, most companies have been focusing on the internal walls. They've broken down functional boundaries and their geographical boundaries, and they've got the different parts of the company to work together.
But despite the progress internally, the outer walls remained intact. When activities go over those walls, there's a lot of overhead involved, a lot of duplication. Worse still information comes to a screeching halt.... Serious supply chain management is thinking about the end to end process, which transcends individual departments and even companies," he said.
With the fact that global logistics networks do exist, the opportunity is available for forward thinking companies to move outside the walls and transcend those barriers that Hammer has identified. As businesses adopt the Internet in greater numbers they will come to understand what Hammer has already determined that "the supply chain is perhaps the last precious business metal waiting to be mined."

Below are some links you may find useful.

• Descartes Systems Group

• i2 Technologies Inc.

• SAP

<<HOME

© 2000-2006 Internet Resources
All Rights Reserved.